---
Lost in Creation: Sharpie Artist, Corey Barksdale
The Atlanta artist, Corey Barksdale, pours his emotions into every stroke taking his audience with him on a powerfully, passionate story on canvas. Barksdale s artistic passion derives from a family of artists. His mother and grandmother both exposed him to color and form at an early age and it was destined he, too, would join the family ranks.
---
George Rodrigue
Collection of news clips detailing the heist and recovery of two Blue Dog paintings stolen from Rodrigue Studio at 730 Royal Street in the New Orleans French Quarter. The paintings are from a series titled "Three Coins in a Fountain" and valued at $40,000. Video shows thief stealing paintings and later recovered by the New Orleans Police Department. Video includes statements from George Rodrigue, Jacques Rodrigue and Lawrence Pugh. Credit WWL-TV Channel 4, WDSU Channel 6 and ABC 26 News, New Orleans.
---
Parkour Motion Reel
An awesome kind of animation involving a whole lot of page flipping really fast .
---
Mr. John Coltrane
John Coltrane sketch/speed drawing by Atlanta Georgia Artist Corey Barksdale. "Coltrane is at the top of my list when it comes to jazz musicians," says Barksdale. A Coltrane recording he particularly enjoys is Africa. "Coltrane is improvisational in the piece, but he has structure in his sound. I like the freedom that he has when he's playing Africa. It's rhythmic and free."
---
MUTO a wall-painted animation by BLU
A short film by Blu: an ambiguous animation painted on public walls. Made in Buenos Aires and in Baden (fantoche)
---
Matrix style flipbook animation
High speed video recording was tot voor kort alleen beschikbaar op waanzinnig dure professionele videocamera's. Met de LG Viewty kan iedereen zich nu uitleven op fascinerende Discovery Channel scènes of zich zelf de nieuwe Steven Spielberg wanen met spannende actieshots. Met 120 frames per seconde wordt elke beweging tot in detail vast gelegd. Opnames van een uit elkaar spattende ballon, een atletiek wedstrijd, een op vliegend koppel zwanen of iets simpels als een ontbrandende lucifer, krijgen zo een schitterend dramatisch effect.
---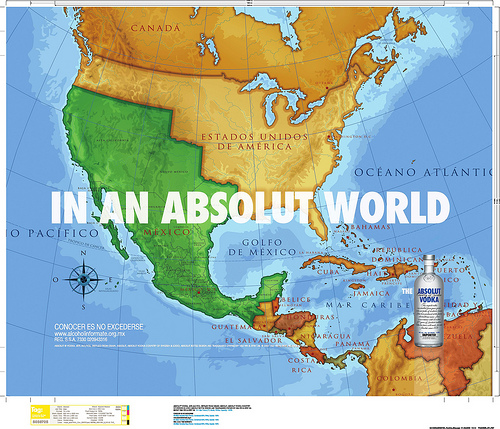 Mexico Reconquers California? Absolut Drinks to That!
April 3, 2008 | 5:27 pm The latest advertising campaign in Mexico from Swedish vodka maker Absolut promises to push all the right buttons south of the U.S. border, but it could ruffle a few feathers in El Norte.
Absolut The billboard and press campaign, created by advertising agency Teran\TBWA and now running in Mexico, is a colorful map depicting what the Americas might look like in an "Absolut" -- i.e., perfect -- world. The U.S.-Mexico border lies where it was before the Mexican-American war of 1848 when California, as we now know it, was Mexican territory and known as Alta California. Following the war, the Treaty of Guadalupe Hidalgo saw the Mexican territories of Alta California and Santa Fé de Nuevo México ceded to the United States to become modern-day California, Texas, New Mexico, Utah, Colorado and Arizona. (Texas actually split from Mexico several years earlier to form a breakaway republic, and was voluntarily annexed by the United States in 1846.) The campaign taps into the national pride of Mexicans, according to Favio Ucedo, creative director of leading Latino advertising agency Grupo Gallegos in the U.S., which was not involved in the Absolut campaign. Ucedo, who is from Argentina, said:
Mexicans talk about how the Americans stole their land, so this is their way of reclaiming it. It's very relevant and the Mexicans will love the idea. But he said that were the campaign to run in the United States, it might fall flat. Many people aren't going to understand it here. Americans in the East and the North or in the center of the county -- I don't know if they know much about the history. Probably Americans in Texas and California understand perfectly and I don t know how they'd take it. Meanwhile, the campaign has been circulating on the blogs and generating strong responses from people north of the border.
---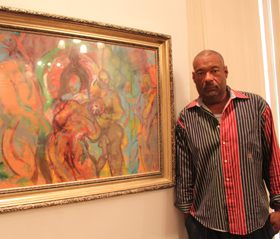 Gay artist tackles homophobia in black community
ATLANTA As a gay, black, HIV-positive man, Michael Morgan finds solace in his art. From his painting In the Garden that depicts the shame of being gay and resorting to finding sex in Piedmont Park, to his Jack in the Box series with dolls caged behind chicken wire to symbolize struggles with drugs, sexuality and poverty, Morgan wants the African-American community to address taboo topics and not hide from them. The last eight years I started focusing my work on my environment, things that have affected me for so long. I did a lot of artwork on social commentary, civil rights and the family, he says. Then I turned it around I wanted to see me projected, my life projected in what I did. So I started focusing on more social commentary on gay life and being black and a minority. Morgan s work was recently on display at the Hammonds House Museum with the works of Daryl Harris, a straight artist who also tackles the social taboos of contemporary African-American culture, explains Hammonds House Museum curator Kevin Sipps. The exhibit was entitled Incendiary Exposure: The Works of Daryl Harris & Michael Morgan.
---
Atlanta Georgia Artist Corey Barksdale Mural Painting Folk Art
Atlanta Georgia Artist Corey Barksdale large scale wall mural art. Murals of sorts date to prehistoric times, such as the paintings on the Caves of Lascaux in southern France, and many ancient murals have survived in Egyptian tombs, and in Pompeii. The term became more famous with the Mexican "muralista" art movement (Diego Rivera, David Siqueiros, or José Orozco).
There are many different styles and techniques. The best-known is probably fresco, which uses water soluble paints with a damp lime wash, a rapid use of the resulting mixture over a large surface, and often in parts (but with a sense of the whole). The colors lighten as they dry.
The marouflage method has also been used for millennia. Murals today are painted in a variety of ways, using oil or water based media. The styles can vary from abstract to trompe-l'œil (a French term for "fool" or "trick the eye"). Today, the beauty of a wall mural has become much more widely available with a technique whereby a painting or photographic image is transferred to poster paper which is then pasted to a wall surface to give the effect of either a hand-painted mural or realistic scene.
---
Gyun Hur - Gallery Stokes Atlanta Art Gallery
"A Requiem in the Garden" at Gallery Stokes in Castleberry Hill, Aug. 28-Sept. 5, 2009.
---
RAEART live painting TIMELAPSE Dec 2007
live painting by RAEART... December 2007 music by Martin Rae
---
Martin Scorsese Painting
If you'd like to buy this or other paintings go to my website http://www.valsartdiary.com
---
Angela Drysdale - An Artist's Journey
Excerpts from Africa. African American Art Gallery.
---
San Francisco Street Art / Murals
I took these pictures throughout 2006 while commuting around San Francisco on my bicycle. I put them together in a movie to encourage people to explore this amazing city.
---
Lois Mailou Jones
Lois Mailou Jones [African-American Harlem Renaissance Painter, 1905-1998]
---
Aaron Douglas: African-American painter (1898-1979)
Aaron Douglas (May 26, 1898 February 3, 1979) was an African American painter and a major figure in the Harlem Renaissance.
---
---