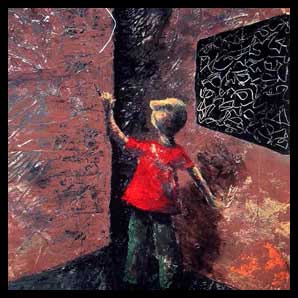 Tina Ciranni
Tina received a Computer Science Engineering degree from the University of Alabama and went on to have a career in Information Technology.  She currently works for EMC as a technical consultant selling hardware and software.  She has always had a love of science and mathematics.  Numbers and formulas can always be trusted.  They donšt lie.

Conversely, Tina always had a creative side and an affinity for drawing when she was young. She acquired the desire to draw from her father and her aunt.  She loved to draw wild life and copy goofy animated bugs from a drawing book that her mom bought her at age 9. The teenage years brought piano, high school, band and boys.  These unfortunately took her away from the pen and the pad.  Years later, in college, she found art again. 

After Tina moved to Atlanta she planned to start taking painting classes again.  On a whim, she enlisted in an after-work class in 1997. Unbeknownst to Tina, her teacher and renowned artist, Chery Baird, would transform her life as an artist and a human being.

Tina enjoys working with many types of media, sometimes all in the same piece.  Her works consist of acrylics with collage, gouache, watercolor, pens, pencils, pastels or strict collages made with found and altered objects.  The ŗfound˛ collages are sometimes the most fun as Tinašs friends have learned to save things for her.  And she is not afraid to stop in the middle of the street and pick up a flattened bottle cap if it looks interesting. She is also working with encaustics now. There is nothing hotter than hot beeswax!
For some time, Tina has struggled between the forces of science and creativity, believing that never the two shall meet.  Only until recently, did she finally realize that the two worlds, however opposing in nature they are, can be married to create some quite interesting results. The way each of us views the world is based on a set of patterns, whether learned or ingrained. It's the randomness, the unexpected accident that makes it rich and colorful.