Live Event Painting • Live Event Artist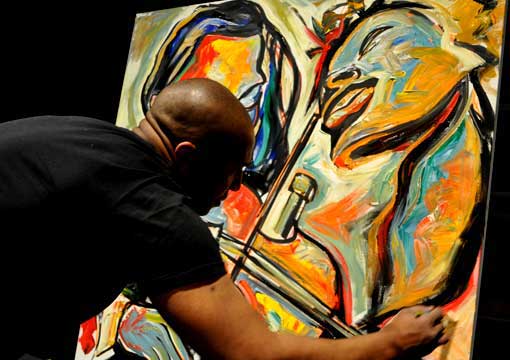 LIVE EVENT ART- ATLANTA ARTIST - COREY BARKSDALE
_______________________________________________________________________
Tips on Painting Large Canvas Art By Al Smitty
Art is a fantastic way in which you can express yourself through creative means. Creating different pieces of art in different types of form is something that gives people an amazing amount of pleasure, and any art that you create is something that can live for your lifetime and beyond. One of the most popular types of art that regular people enjoy is painting on canvas. If you want to create large canvas art, you will have to consider a number of key points before you begin. Of course one of the main things you will need to consider will be what sort of canvas you will be using. There are a number of different types that you could choose from, and a number of different sizes as well.
Depending on how large you want your painting to be and what you will be painting, you need to pick the right sort of canvas carefully. In addition to this, you also need to pick the right paint. There are different types of paint that you can use to paint on canvas, most notably acrylic paints and oil paints. Again, you will also have to consider your level of skill and your level of experience when working out what sort of paint you should use. Both of these types will have their own distinct advantages and disadvantages depending on the way in which they are used. For example, acrylic paints will dry a lot more quickly and as such are probably best used by those who have a little bit more experience.
If you continually make mistakes when using acrylic paints then these are very hard to alter and as such this can ruin the overall look of your painting. However, these paints are very easy to clean out of your brushes, and as such you will not need to be replacing brushes quite so frequently. On the other side, oil paints will take a lot longer to dry and are therefore a lot more suitable for those who have little experience at painting on canvas. When you first start painting it will certainly be a case of trial and error, with error being the key word. You are likely to make lots of mistakes, and as such you will want to try to rectify these as soon as you can.
Due to the fact that the painter takes a lot longer to dry, you will have ample time to iron out any errors. The downside, however, of using these paints is simply the fact that they are very difficult to clean. Not only will this mean you will be spending lots of time washing out colours you have used in order to reuse the brush, but you may also find that any paint residue that is left can cause streaks to appear on your painting where they are not wanted. One last consideration you will have will be how long the product will be and what you will paint. Due to the fact that you will want to paint large canvas art paintings, the project that you engage in may well be something that will take you quite some time. As such, you need to have the determination to persist and see it out to the end. Al Smitty is a writer who loves to discuss many topics ranging from oil paintings art [http://www.oilpaintingsart.org/] to American football. Thanks for reading!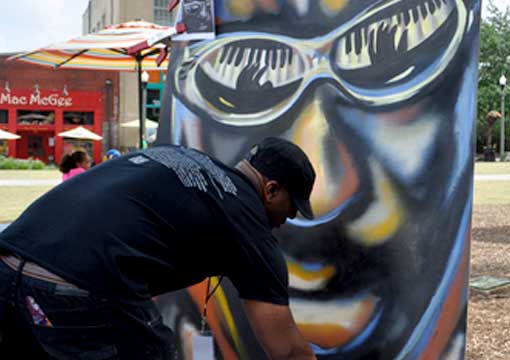 LIVE EVENT ART- DECATUR, GA - ATLANTA ARTIST - COREY BARKSDALE
_______________________________________________________________________
Face And Body Painting Guide By Jane Chaster Expert Author Jane Chaster
There are a lot of activities that are indeed fun and exciting. You will surely appreciate body and face painting. This way, you will be able to express your emotions. It is also one good way to be creative and artistic in some ways. You just need to realize that you have to be cautious with regards to the things and materials that you will use. Make sure that they are not sensitive to the skin. There are some things that you always need to keep in mind.
PLAN The first thing that you need to do is to plan for the activity that you want to do. Make sure that you will be able to formulate the plan way ahead of the date of the activity. You have to consider a lot of things with regards to the plan that you will do such as the materials that you will use. The participants preference and many more.
USE CORRECT PAINTS It is very vital that you will only use the paints that are appropriate for the skin of the models or participants. Make sure that the paints are hypoallergenic and will not cause any allergies especially to kids. Try to look for these paints in stores near you. There are also online sites that will help you buy the best paints to use for the activity. The colors of the paint must also be considered. Red, blue and yellow are very important colors that you need to consider.
SPONGES AND BRUSHES There are materials that you will need to be able to perform this activity. Sponges are very important for some designs especially those that will cover large areas of the body. Brushes are also important for the details of each design that you will paint. Make sure that you have various sizes of sponges and brushes.
There are a few things that you have to keep in mind if you want to do face and body painting. You need to plan ahead of time for the activity that you will do. You also need to use correct paints, sponges and brushes. Try to remember the tips to have a guide for the activity. You need to have a guide in doing this activity. Get face painting kits now.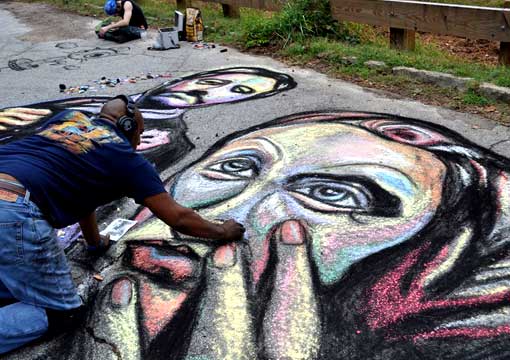 LIVE EVENT ART- PINE LAK, GA - ATLANTA ARTIST - COREY BARKSDALE
_______________________________________________________________________
Hiring an Event Artist for Your Wedding, Function or Party - The Elegant Extra By Ruth Monsell The Elegant Extra -
Hiring an artist for your special event Planning a party, celebration, corporate event, reunion or wedding that needs to make an impression? Looking for something out of the ordinary that guests can take home, something by which they'll always remember that day? Nothing surprises and impresses guests like finding that the reception includes a professional artist working live to "capture" them on the spot. For example, today brides are definitely looking to put the stamp of their own style and personality on their weddings. They want something that will make their ceremony and reception uniquely their own, and make their day stand out in their guests' minds from all the other weddings they've attended. If your reception is formal, or you'd like it to have a vintage theme or a nostalgic aura, consider hiring a silhouette artist or two to cut traditional profiles of the guests.
Their silhouette becomes their favor, and being one-of-a-kind, is likely to be treasured as an heirloom rather than left behind at the table or discarded. Additionally, guests find watching an artist work live immensely entertaining and even educational. Because relatively few professional silhouettists are at work in America today, many guests have never had their profile cut or watched an artist create one. Seeing likenesses start to emerge in just seconds from simple black paper and scissors wows viewers. Silhouettes fit in perfectly with most events from parties for kids to 50th wedding anniversaries, whether or not the theme is "vintage." The art of the silhouette was at its height in the mid-1700's to mid-1800's, with another important resurgence in the post-camera nineteenth century. But from the middle of the twentieth century, the number of artists with the skill diminished.
Thus today freehand silhouette artists create excitement. Many folks can recall having their head traced in grade school from a projected shadow, but have never seen an artist cut freehand. Most are astonished that a piece of cut paper approximately 3 x 4 inches can capture so much of a person's appearance, posture, and often even personality. A good silhouette professional will offer a number of different options, tailoring their work to exactly what will best satisfy your vision of your event. If you want to emphasize FUN at your party rather than tradition, it may be more appropriate to engage a caricature artist. A good one will make every guest laugh and stress the idea that this day is meant to be a fun-filled celebration.
Whereas the average silhouette takes about 5 minutes to complete, paste-up included, you should expect a caricaturist to work on each subject for closer to 10 minutes if working in black and white, and a little longer in color. There are even a few artists available who will bring an easel and turn out a painting of the crowd at your wedding reception or party! This makes a great memento for the happy couple and is fun for guests to watch, though it does not result in a gift they can each take home. What will hiring an artist cost? Obviously, it depends upon the artist and their reputation and experience, as well as what extras you may want included (for instance, duplicate silhouettes for an album) and how many hours you want them to work (some artists have a three hour minimum, for example.)
However, as a ballpark figure, you should expect to pay in the range of $1,000 to $1,500, not including travel expenses, if you want professional results. Event artists are harder to find on some websites than, say, photographers. You can't always count on them appearing where you might expect, such as under "vendors." But if you use the right search terms, and keep looking, you will find the perfect artist for your event. You can search under the keywords for the type of artist you seek, or look on special occasion sites such as GigMasters.com In many cases the best artist won't live in the next town over. Nonetheless, if your budget permits you to fly a good one in and put him or her up in a hotel, you may find it is one of the best investments you can make.
After all, every well planned affair has guests, flowers, food and music. It's only the extra special ones that have that crowning touch of a live event artist to help make the day unforgettable for all. Ruth Monsell Artful Heirlooms Silhouettes and Caricatures Ruth Monsell has been the principal artist of Artful Heirlooms for nearly a decade. She began working as a silhouette artist and accepting portrait commissions in a variety of media in the late 1970's. More recently she branched out into working as a caricaturist.
She has worked live at hundreds of events, from schools to fundraisers, shows, fairs, weddings and for a large number of museums and historical societies. Extensive examples of her work, along with testimonials, can be seen at http://www.ArtfulHeirlooms.com Her goal is always 100% client satisfaction. She can also help clients hire other artists, coast to coast, for large events which call for more than one artist, or when she already has booked the date you need filled.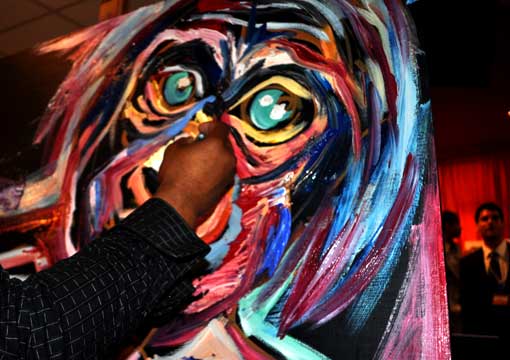 LIVE EVENT ART- ZOO ATLANTA - ATLANTA ARTIST - COREY BARKSDALE
_______________________________________________________________________
How to Pick a Good Caricature Artist For Your Party By Kara Wald
If you are a party planner or an individual looking for your own party, it can be confusing to find a caricature artist. Most people don't know the difference between caricature artists, so how do you choose the right one for you? First, you need a caricature artist who is reliable.
They should show up at least 15 minutes before start time and check in with the host or planner. They should have appropriate equipment with them, such as paper and lights. That seems basic but it doesn't always happen. If an artist has been around for a while or has references, they are probably reliable. You don't mess up jobs and continue to get them. Second, you need a caricature artist who can entertain. Can they draw children on the fly? Keep kids looking at them while they draw them as they twist and turn? That needs experience, and, again, an artist who has been around a while will be able to do that. They also need to be able to interact with the subjects they are drawing, draw fun caricatures and keep things going.
This is a skill and usually the ones who stick around have it. You don't stay in a profession that demands performance and art together if you don't like it! Third, you need a caricature artist whose style you like. Check out their samples, see if they do the kind of caricatures you want. Are they really exaggerated? Can they do cute and fun?
Can they draw with color if you need that? Find someone who can do the things you want. Fourth, do they have the supplies they need? Can they bring an umbrella or tent for shade, lights if needed, mailing tubes and plastic bags for your guests to carry them in? These are all good things to ask. Fifth, you need to know how long you will need them and how many artists you will need. Most caricature artists can do 15-20 black and white faces per hour, fewer for color and fewer if they draw body/hobbies. So, estimate your guests and then divide by how many they do per hour.
That will give you an estimate. If you need many guests done in a short amount of time you will probably need more than one artist. Ask the artist what they think. Remember, it won't be just the kids who want a caricature. The adults usually want one with their kids, couples want to have one done together, and if there is more than one artist, they may want one from each. There are usually disappointed people when the caricature artist leaves! Make sure your guests know to get in line.
So what do you need to tell a caricature artist when you book them? Give them the date, time, address, and contact information, including your cell phone number that you will have with you at the event, or the contact information of the event planner. Tell them if they need to bring colors, lights, chairs, something for shade. Will you provide a tent? If not, they need to bring their own. When you book a caricature artist they might give you a contract to sign outlining duties and responsibilities. Read it and make sure the information is correct! You should give them a deposit to book the day, usually at least one hour per artist. The artist will have their own rules.
You should give them a check at the end of their time. It's always nice to give a tip if they did a good job. Sometimes your guests will give tips to the caricature artist themselves; unless you have a specific objection it's nice to let them do that. If it's a long job, you should consider letting them eat at the event. It's hard work to draw continually, so if it's over three hours they might get hungry, and they will need at least a 10 minute break to rest their hands. It's customary to offer them sodas and water while they are working, especially if outdoors.
If you want them to have some dress code please make that clear. Most artists know to wear something different to a company picnic versus a wedding, but if have something in mind, let them know. After all that, enjoy the party! Since you've done your homework, your artist will be professional and prompt, and you won't have to worry about anything except to listen to your friends say what a great idea it was and how much they enjoyed it! And, you'll see the art framed in their houses when you visit, a nice memory of your great party. Kara Wald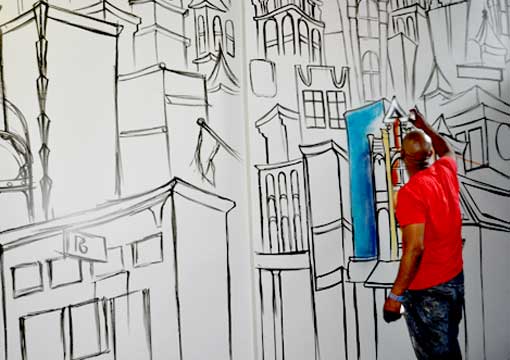 Corey Barksdale captures the spirit of your special event in an tasteful large-scale painting that he creates during the event.
Corey will capture your special a day with his fine art live painting that will entertain your guest and perserve memories of your special celebration for years to come.
As the painting evolves on canvas, it adds a fresh and engaging dimension to your event. And the finished work of art keeps great memories alive for years to come.
A Live Event Painting makes a unique, original gift or memento, whether the occasion is a wedding, a fundraiser, the celebration of a corporate milestone, or any other celebratory indoor or outdoor gathering.
Corey Barksdale is available to paint at your event in Atlanta, Savannah, New Orleans, Raleigh, San Diego, New York, Los Angeles, San Francisco, Chicago, Colorado, Seattle & Hawaii. He is available to travel anywhere in the country to capture your beautiful event.
Call Us Today @ 615-601-2787 to Commission Corey at Your Next Event.