Welcome to Atlanta Artist Corey Barksdale Art Gallery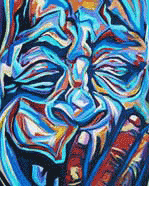 CoreyBarksdale.com was formed in 2000 to offer public exposure to Atlanta artist Corey Barksdale's Atlanta artist art creations and to serve art dealers and collectors in their search for a broad range of fine art paintings and collectible's. Check out Corey's Atlanta Art Gallery here. Tweet

ATLANTA, GA – Atlanta Artist Corey Barksdale's work is continually inspired by jazz and African American culture. "It frees me to do what I feel when I'm painting," Barksdale says. While painting, he often listens to jazz greats like Charlie Parker, Miles Davis and John Coltrane. The result has been more than 30 paintings that celebrate the jazz experience.
"Coltrane is at the top of my list," says Barksdale. A Coltrane recording he particularly enjoys is Africa. "Coltrane is improvisational in the piece but he has structure in his sound. I like the freedom that he has when he's playing Africa. It's rhythmic and free."
Barksdale admires Miles Davis with equal measure for his rawness. "Davis was into experimenting and trying different things with his sound. He was a catalyst for other musicians and he was a pioneer in his time, all without commercializing the music."
So what is it about jazz that inspires Barksdale's creativity? "I love the improvisation of jazz musicians from the '50s and '60s. There was a lot of experimentation going on. In much the same way, I want to create something totally new with my paintings each time - to be different in the way I portray certain subjects." Barksdale clearly appreciates traditional jazz artists - the Jazz Crusaders and Sonny Rollins included - but he also gets a certain amount of inspiration from legendary contemporaries like Joe Sample and David Sanborn.
One of Barksdale's personal favorites is a painting he's entitled Jazz Reflections. "The painting is of six guys playing various horn instruments, a bass and piano. It's one of my favorites because it gives off the vibe of what it's like being in a jazz club," explains Barksdale, an Atlanta College of Art graduate. Many of Barksdale's oil paintings are an infusion of vivid colors tinged with earthtones. His choice colors, a sky blue and a rich orange, almost like Georgia clay with a hint of brown, are used with bold strokes throughout his collection.
"Ultimately, I want individuals to feel what I felt at the time I produced a piece. And whatever the scene happens to be in a painting, I want them to look beyond that and find other things in the painting they can relate to. It's my attempt to connect on a more personal level." See more of Corey's fine art here at his painting gallery.