Wall Mural Painting
(Atlanta, Georgia)
Canvas Art Sets - The Best Decorating Solution for Large Walls
By Ana Trenas Expert Author Ana Trenas
Large canvas art sets can solve designing problems such as decorating a large wall, long office corridors, a staircase, or homes and building lobbies with high ceilings. Big empty spaces can present a designing dilemma, but you can fix this problem by getting large pieces of canvas wall art. Canvas sets come in many sizes, shapes and painting styles. Regarding sizes, there are small sets of 2 to 3 pieces, medium-sized art sets of 4 to 5 pieces, and really large ones that go up to 6 or more canvas pieces.
The canvas can come in uniform shapes or as an offset canvas with canvas pieces in different shapes and sizes. You can choose sets in any color that will match with your room's color motif. The style are also varied. There are sets depicting landscapes painted in traditional styles and there are abstract canvas sets that go with modern surroundings. These types of paintings are versatile because you can hang them close to each other or with some space in between each canvas. Hanging them a few inches apart will allow you to cover more wall space. It also produces a very cool look and adds dimension to the whole artwork. Large canvas arts sets that depict wide open spaces like a picture of an African landscape or a large seascape can open up your living room space.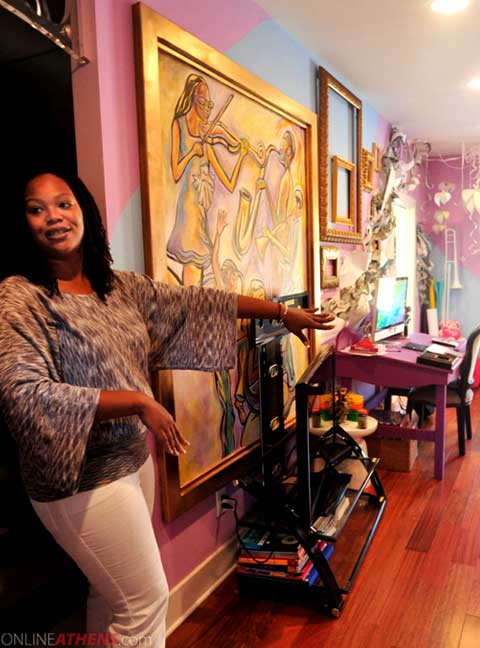 Large paintings can also create a picture window effect. You can make your room stand out by using these types of paintings. Most people just have a single painting or hang several smaller artwork to cover a huge wall. Large painting sets are practical if you are looking for an easy way to decorate large empty spaces. The problem with getting several paintings and grouping them together is that, some paintings may not match with the rest of the other artwork. Another problem is getting the right size of each individual painting. Then there is the difficulty of finding artwork with complementing colors.
When grouping several paintings together, you also have to get similar themes for all of them. It can definitely be a challenge to decorate a large wall, but not if you get large canvas art sets whose pieces will definitely go well together. Although they are made up of several canvas pieces, they create one artwork. Another benefit to these paintings is the ease of hanging them. A big single painting will be too large for one person to handle. You will need at least 3 more sets of hands to mount it on your wall.
Big paintings are also heavier and will require more durable hanging hardware. Large canvas art sets are composed of several smaller pieces of canvas. One person can manage to carry and hang each piece. Here's a tip: Get paintings that are ready-to-hang, especially large pieces and sets. This will make it easier for you to hang them on your wall quickly. Find a wide collection of canvas wall art [http://www.everythingwallart.com/default.asp] at EverythingWallArt.com and discoverer countless choices of canvas art sets [http://www.everythingwallart.com/category-s/42.htm], in different painting styles.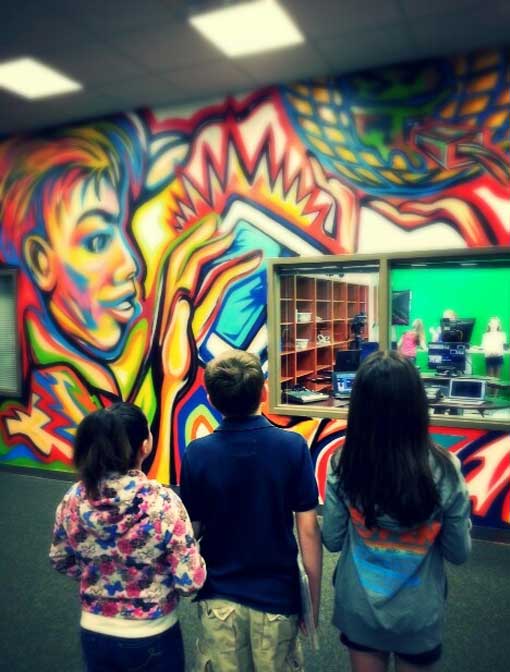 Large Format Mural Painting
(Atlanta, Georgia)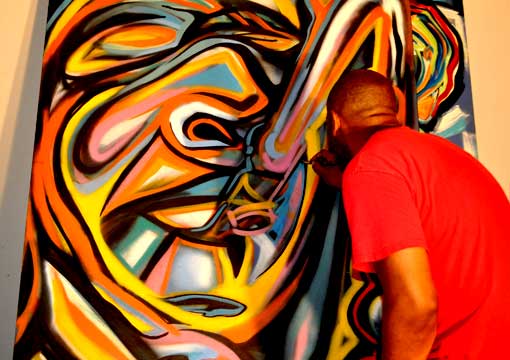 Wall Mural Painting
(Atlanta, Georgia)
Tips for Creating Realistic Wall Murals By Victoria Larsen Expert Author Victoria Larsen We all tend to think that doing a large mural is such an overwhelming project that we don't dare even try. But beautiful wall murals are a growing trend that can be included in your room make-over or design. Wall murals are a regular feature in "Street of Dreams" and showcase homes across the nation, sparking more and more of us to want them in our own homes. Murals don't have to be overwhelming when thought of in "layers". That's exactly what any "scene" is. Look at any photo of interesting scenery (or even out your living room window).
Everything you see is simply "layers" of elements that when combined, make up that beautiful picture. Pinpoint the elements that are the farthest away; sky, mountains, trees, buildings. Come forward, in toward the next layer and notice what is there: closer trees? a flowing brook or small trees or bushes? Now focus on the front layers. Are there flowers, a bed of stones or delightful pathway? You are beginning to get the idea.
Everything we look at is simply a wall mural waiting to be painted. Adapt that same principal to your own murals. A rough sketch on the wall is important to keeping your perspective and reserving room for more forward elements. So decide the basics of your wall mural lay out and simply sketch a rough design to keep you focused. Decide what is in the background and begin with only those elements. Think of it as a "mini-mural". By completing your mural in stages, it helps to ease the feeling of being overwhelmed by the bigger picture (so to speak).
Few elements in a mural require detailed design. Sometimes, simply mimicking the appearance of a sky of clouds, a mountain vista, a leaf, stone, or a bush is all that is needed to make a wall mural realistic. Popular mural designs today also feature less color and more monochromatic color palettes. For instance, consider a mural with a pale beige background and simple, deeper beige or light brown trees. These more muted, less colorful murals give a room a relaxed feeling.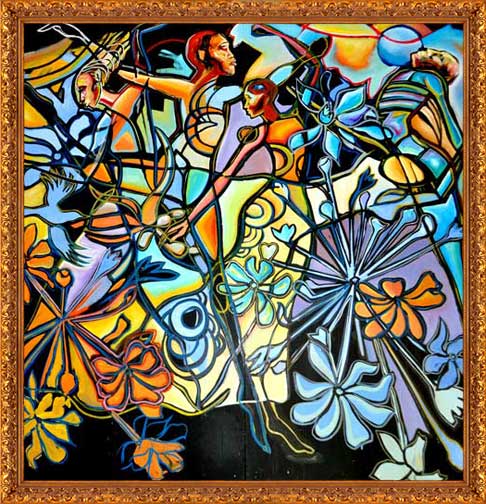 They are soothing and easy on the eyes. Muting a mural is actually very easy. Once your mural is complete, you can mute the color depth by simply mixing 1⁄4 cup of wall paint (the same color as your walls is a good choice) and 4 cups of translucent wall glaze (available at your local home or paint store). Mix well, then with a large, dry brush, dip the brush in to the mixture and wipe all excess off on to a paper towel. Begin in one corner of your mural and brush the mixture lightly over the surface.
This will begin to lighten and mute the design and its colors. Repeat the process until you have achieved the degree of lightness you were looking for. If you are not experienced with hand painting your own designs, remember that there are life-sized elements in stencil form offered by an array of very talented designers that can achieve exactly what you are looking for. So you don't have any ideas for a mural but want one? Thumb through your favorite gardening magazine!
There are choices in those pictures that you might not have even thought of. Another method for creating a mural is to choose a photo or magazine picture that attracts you, renting an enlarging projector from your local library, focusing the design on your wall then tracing it and filling in with craft paint. It's truly not difficult to do. In conclusion, designing a mural and its execution needn't be a daunting task when it's performed in layers. Sure, any mural worth gazing at for years to come is going to take time.
But isn't that what "art" is all about? To me, my murals are an extension of myself. It's certainly worth putting time and my best effort in to it. I don't want to rush something that will be around for a very long time. Victoria Larsen is a profession wall stencil designer specializing in Raised Plaster Stencils and Ornamental Wall Molds and who features the talents of professionals and beginners alike on her website at www.victorialarsen.com Copyright © Victoria Larsen 2006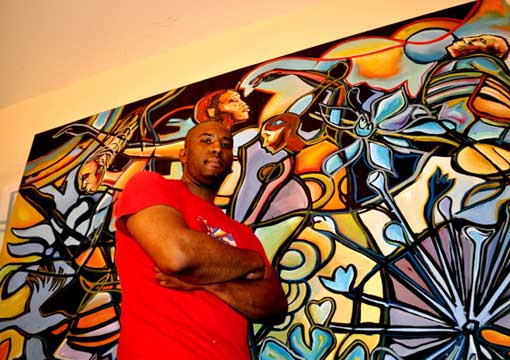 Large Format Original Paintings • Extreme Home Makeover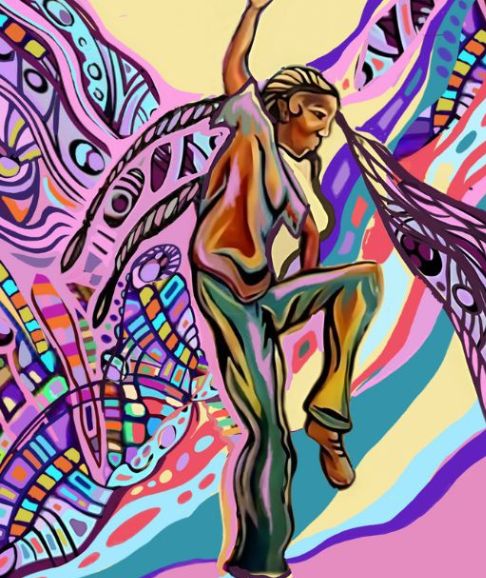 Large Format Original Paintings • Atlanta Beltline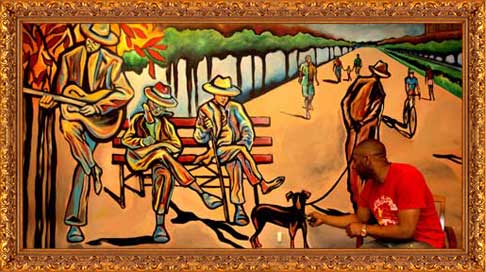 Basic Principles of Wall Mural Painting
By Matthew Joshua

Mural painting is a kind of painting that is designed and structured in order to enhance the exquisiteness of the ceilings and walls of the workplace or home. Apart from various other architectural decoration techniques available in the market such as bas-relief sculpture, mosaic, wood or stone inlay and graffito, wall mural is one of the most preferred techniques among the interior designers and architectures. It is the most cost effective ceilings and walls decoration techniques that can increase the charm and beauty of any kind of building and structure.

The main objective behind going ahead with this kind of wall painting is to give a new lively look to your building and make your place different from others. A wall mural painting must depict a design that perfectly compliments the interior of the building. It will help in solving the purpose of decoration and depicting the fine art work that have the power and ability to grab the attention and interest of everyone who put a glimpse over it. This design can be anything that depicts any past record, adore the present or represent any future aspiration. This kind of wall painting art can help in expressing ideologies, thought and creativity on the ceilings and walls of the building.

The basic principles of wall mural painting is to help in improving the architectural beauty and the design of the building. Whenever it comes to architecture, everyone of us wants to have a good a fine art work that only goes with the building structure but also should be cost effective. Therefore, a mural painting should be designed according to the volume and the space of the area. It should give an expression of a meaningful decoration.

A mural painting can help in giving psychological satisfaction to the people and allow them to work or play more effectively in that particular decorated room. It can further help in educating people, entertain them, reminding them about some glorious past memories, boost their moral, express any in depth feeling and also inspire their thoughts and ideas through visual presentation.

There is a wide variety available in the market, so that the people can choose them as per the different functions of their rooms and buildings. To meet the growing demands of the people, many mural painting artists offer customized wall mural that is designed as per the specific needs and demands of the building owner.

Every painting has its own meaning and theme. People who are looking forward to go ahead with the idea of mural painting in their office or home can select the design as per the functions of the rooms or buildings. Matthew Joshua is a Philadelphia based writer who is specialized in writing about Mural Painting Philadelphia, Wall Murals Philadelphia etc. For more information you can visit: http://interiorpaintingbuckscounty.com.